William Lacon Threlford established the Institute of Linguists in 1910 with the aim of addressing the lack of expertise in modern languages among British businessmen involved in foreign trade. The first exams were held during that year, and the first members were admitted.
A highly distinguished figure in public life, Threlford worked tirelessly to secure the foundations of the Institute. Through his social and business connections, he was able to recruit a body of distinguished supporters as patrons, presidents and vice-presidents to help further the aims of the Institute. In 1935, recently knighted, he presented the Threlford Challenge Cup for the first time, described as 'the world's greatest trophy for fostering the study of languages'.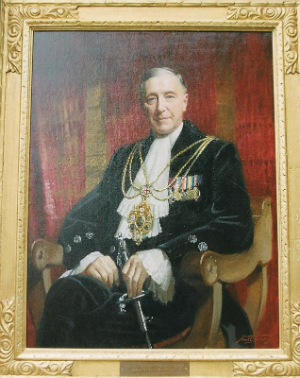 After Threlford
In 1958, the year of Threlford's death, the Institute became a company, and in 1960, its Golden Jubilee year, adopted a new heraldic crest. It was during this year that the Institute established the Threlford Memorial Lecture, which continues annually to this day.
An Educational Trust (IoLET) was set up in 1977, allowing the Institute's exams and other educational activities to be run by a body with charitable status.
During the 1980s, the specialist divisions were created, representing the main types of profession occupied by members, and the regional societies were established.
HRH Prince Michael of Kent GCVO was appointed Royal Patron in 1999, an apt choice as he had had a military career during which he had trained as an interpreter in Russian. He has proved to be an enormous asset to the Institute, attending events and presenting prizes at a number of awards ceremonies.
The Royal Charter was granted in 2005 and represents a significant step in the recognition of the profession of the linguist in all areas of work.
In 2010 the Institute celebrated its centenary with a formal reception at the British Academy, with speeches by our Royal Patron HRH Prince Michael of Kent, the Institute's then President Lady Brewer and other distinguished guests.
The Journal
In 1924 the Institute had established 'The Linguists' Review' – 'the magazine for the foreign correspondent, teacher of modern languages and student of modern languages'. The publication underwent various changes in format before eventually becoming 'The Linguist', the bi-monthly publication we know today, offering linguists a wide range of interesting articles relevant to their profession.
CIOL today
With its professional chartered status, CIOL today is an organisation of over 7,000 members in some 57 countries, who use their foreign language skills across a wide range of professions. The organisation runs a scheme of Continuing Professional Development events, providing an opportunity for linguists to maintain their skills. Three Divisions and ten regional Societies in the UK and abroad are flourishing, offering members workshops, lectures and social events.
The IoL Educational Trust offers regulated vocational qualifications, and presents awards for achievement in language learning and contributions towards fostering the study of languages.
---